Aquarium Safe Silicone: Black
GE Black Silicone is used by leading Canadian aquarium manufacturers. Once cured it is completely safe for all animals, plants, fish, coral and invertebrates.
---
How We Ship
We are dedicated to providing our customers with proven shipping techniques to ensure safe arrival of perishable supplies. We offer industry-leading guarantees and original packaging methods to ensure our clients and their pets are very well taken care of. We are a family owned business and we truly appreciate your support! You can count on us to help whenever we can, and to do the right thing when it comes to customer service.

This page was created to provide as much detail as we possibly can regarding what to expect when you order from us. If you have any questions about our policies below, don't hesitate to contact us!
---
Perishable Guarantee
Please Read!
Before ordering perishable goods such as plants, fruit flies, or isopods, please take a look at the temperatures here in Montreal as well as at your location. If temperatures on both ends are between 7C-29C we guarantee that all perishables will arrive safely and undamaged no matter the shipping method chosen. If an order arrives damaged we will replace or refund the affected items at no cost! If temperatures are above 29C or below 7C we do not offer this shipping guarantee unless you choose Xpresspost or Priority shipping**. Because shipping Xpresspost or Priority can be expensive, if your order has heavier items in it such as wood decor, substrate, drainage or fly media it might be more cost effective to ship the heavier items Regular Parcel and the perishables Xpresspost/Priority.
**If you are in a remote area of Canada and packages generally take longer to reach you, please contact us with your postal code before ordering so we can work out the best shipping method to ensure your package gets to you safely!**
Perishable Guarantee Details:
If you suspect perishables in your order may have been damaged in transit due to our packing please let us know as soon as possible! To receive a replacement or refund on an item, we require photgraphic proof over email or text within 12 hours of package delivery. Packages must have been received upon first delivery attempt to qualify for this guarantee.
 
Perishable Product Shipping Info:
Our plants are shipped individually wrapped and labeled. This makes shipping safer! We include free ice and heat packs when appropriate. During fair weather, perishables can be shipped along with heavy items using Regular Parcel service and our shipping guarantees will still apply.

Extreme Weather, Storms, and Service Interruptions:
During cases of extreme weather or situations where Canada Post has issued a transit delay warning, we may temporarily hold shipments and contact you to select a safer shipping window.
---
Canada Post Shipping
Here is an estimated arrival time based on Major-Urban, Non-Major Urban and Remote areas. If you think your location might delay your shipment and it contains perishables feel free to contact us with your postal code and we will make sure your order gets to you safely!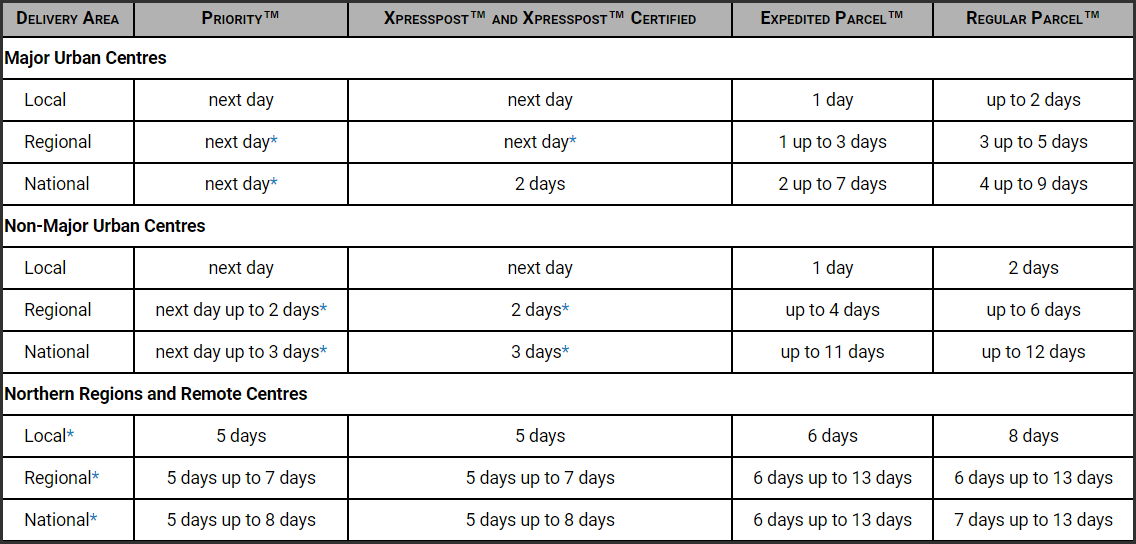 ---
Live Animal Shipments
We guarantee the healthy arrival of every animal we ship when following these guidelines:
We breed a limited number of Crested Geckos and Dart Frogs, working with species and morphs we are personally passionate about. We bring these animals to local reptile expos and can ship via Reptile Express or Air Cargo within Canada.
Live Animal shipments require signatures upon arrival
They must be signed for upon the first delivery attempt
Any claims of DoA (dead on arrival) or that the animal is not as expected must be made within 2 hours of receiving the shipment. Photos will be required.